Get ready to travel with HSBC
Enjoy complimentary travel insurance promotion on selected HSBC credit cards
HSBC offers you and your family complimentary travel insurance* when you charge the full cost of your air ticket to your HSBC credit cards. Check out the HSBC credit card air ticket offer

| Credit Card | Accidental Death and/or Permanent Disablement (per person) | Travel Inconvenience (trip cancellations, travel delay etc) | Medical expenses | Emergency Medical Evacuation and Repatriation | Provides COVID-19 coverage |
| --- | --- | --- | --- | --- | --- |
| HSBC Visa Infinite Credit Card1 | Up to USD2,000,000 | Up to SGD10,000 (per family, per trip) | Up to SGD100,000 (per family, per trip) | Up to SGD250,000 | Included |
| HSBC Premier Mastercard® Credit Card2 | Up to SGD 1,000,000 | Up to SGD5,000 (max per family) | Up to SGD10,000 (per family) | Included | Included |
| HSBC Advance Credit Card3 | Up to SGD500,000 | Up to SGD4,000 (max per family) | Excluded | Included | Excluded |
| HSBC Revolution Credit Card4 | Up to SGD 300,000 | Up to SGD6,000 (max per family) | Excluded | Included | Excluded |
| HSBC TravelOne Credit Card5 | Up to USD 50,000 | Up to USD 1,000 (max per person) | Up to USD 100,000 (max per person) | Included | Included |
HSBC offers you and your family complimentary travel insurance* when you charge the full cost of your air ticket to your HSBC credit cards. Check out the HSBC credit card air ticket offer

| | |
| --- | --- |
| Credit Card | HSBC Visa Infinite Credit Card1 |
| Accidental Death and/or Permanent Disablement (per person) | Up to USD2,000,000 |
| Travel Inconvenience (trip cancellations, travel delay etc) | Up to SGD10,000 (per family, per trip) |
| Medical expenses | Up to SGD100,000 (per family, per trip) |
| Emergency Medical Evacuation and Repatriation | Up to SGD250,000 |
| Provides COVID-19 coverage | Included |
| Credit Card | HSBC Premier Mastercard® Credit Card2 |
| Accidental Death and/or Permanent Disablement (per person) | Up to SGD 1,000,000 |
| Travel Inconvenience (trip cancellations, travel delay etc) | Up to SGD5,000 (max per family) |
| Medical expenses | Up to SGD10,000 (per family) |
| Emergency Medical Evacuation and Repatriation | Included |
| Provides COVID-19 coverage | Included |
| Credit Card | HSBC Advance Credit Card3 |
| Accidental Death and/or Permanent Disablement (per person) | Up to SGD500,000 |
| Travel Inconvenience (trip cancellations, travel delay etc) | Up to SGD4,000 (max per family) |
| Medical expenses | Excluded |
| Emergency Medical Evacuation and Repatriation | Included |
| Provides COVID-19 coverage | Excluded |
| Credit Card | HSBC Revolution Credit Card4 |
| Accidental Death and/or Permanent Disablement (per person) | Up to SGD 300,000 |
| Travel Inconvenience (trip cancellations, travel delay etc) | Up to SGD6,000 (max per family) |
| Medical expenses | Excluded |
| Emergency Medical Evacuation and Repatriation | Included |
| Provides COVID-19 coverage | Excluded |
| Credit Card | HSBC TravelOne Credit Card5 |
| Accidental Death and/or Permanent Disablement (per person) | Up to USD 50,000 |
| Travel Inconvenience (trip cancellations, travel delay etc) | Up to USD 1,000 (max per person) |
| Medical expenses | Up to USD 100,000 (max per person) |
| Emergency Medical Evacuation and Repatriation | Included |
| Provides COVID-19 coverage | Included |
Looking for a more comprehensive travel insurance plan? Check out our latest promotions for TravelSure.
Don't have an HSBC credit card?
Protect yourself and enjoy travel insurance promotions
Explore HSBC credit card promotion for hotels and flights bookings
Discover COVID-19 requirements at your destination
Earn cashback with one multicurrency account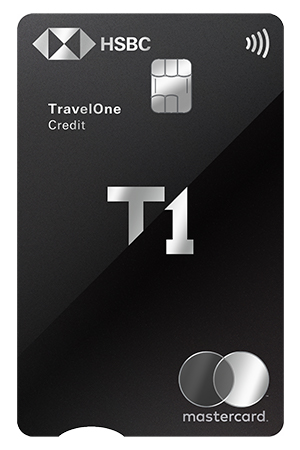 Unlock instant travel rewards and elevated travel experiences with HSBC TravelOne
Redeem travel rewards instantly with a wide range of airline and hotel partners.

Earn up to 2.4 miles (6× Reward points) for your spending.

Suite of travel privileges including 4 complimentary airport lounge visits, travel insurance coverage (including COVID-19) and more.

Get 20,000 miles (in the form of 50,000 Reward points) for new HSBC TravelOne credit cardholders.