Invest in currency pairs as underlying assets
Dual Currency Plus helps you make the most of your foreign currency needs by allowing you to pair two currencies of your choice and making use of foreign exchange fluctuation to enhance your returns.
Invest a minimum of SGD 50,000

Select your base and linked currencies from the currencies available on the Everyday Global Account

Choose an investment term ranging between 1 week and 3 months
Get proceeds in either currency depending on the currency movement in the market at the end of the investment term
Suppose that you invest USD1,000,000 in Dual Currency Plus today with spot rate at 1.4000, selecting SGD as your linked currency, 1 month investment term with return of 5% per annum and strike/conversion rate of 1.4300. Your proceeds depends on the exchange rate on fixing day – in Scenario A, you will receive them in USD while in Scenario B, you will receive them in SGD.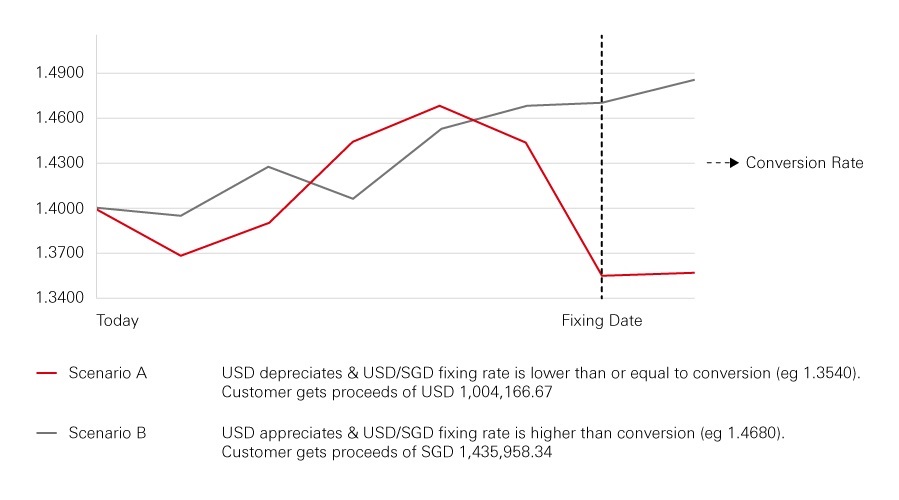 You can link the Singapore dollar to any of these currencies:
Australian dollar (AUD)
Canadian dollar (CAD)
Euro (EUR)
Japanese yen (JPY)
New Zealand dollar (NZD)
Pound sterling (GBP)
Swiss franc (CHF)
US dollar (USD)
Hong Kong dollar (HKD)
Chinese yuan (offshore RMB) 1
1RMB-specific risks for RMB products
RMB is currently not freely convertible and RMB conversion may be subject to certain restrictions. The amount of offshore RMB (deliverable outside mainland China, informally known as CNH) may be limited, which may affect the liquidity of offshore RMB products. The market for offshore RMB is a different market to that of onshore RMB (deliverable in mainland China, known as CNY). Apart from its own supply and demand, the offshore RMB exchange rate may be influenced by the onshore exchange rate, which currently trades within a band set by authorities in the onshore interbank market. The two rates may converge with or diverge from each other.
Your Dual Currency Plus will be placed in your base currency at the beginning of your investment term
Your proceeds will be paid on maturity date, while the outcome will be known on fixing day – which is 2 days before the maturity date
If the linked currency you have selected weakens, your maturity proceeds may be less than what you originally invested. If the linked currency strengthens, your money will stay in your base currency.
You must be a HSBC Premier customer
Refer to the product sheet here.
You need to have the following:
Aged 21 and above
Have an Everyday Global Account
Valid Customer Knowledge Assessment (CKA) where you have assessed to have knowledge and experience in investing in Dual Currency investments.
If you'd like to invest in a Dual Currency Plus, you can speak with one of our wealth experts on the phone or in branch to determine your risk tolerance and your investment objectives.
Contact me
Leave us your contact details and our Wealth Manager will be in touch with you.

In person
Come and see us in a branch to set up your FX limit order.
Over the phone
In Singapore:
Calling from abroad:
Important Notes
Dual Currency Plus is an investment product. With Dual Currency Plus, the principal sum and returns are repayable, as determined conclusively by the Bank, either in the currency in which the investment is made ("base currency") or an alternative currency ("linked currency") at maturity. Early withdrawal of Dual Currency Plus, if permitted, will be subjected to the bank's procedures and applicable charges and you may incur a loss on your principal upon withdrawal.
The following terms and conditions apply to an investment in Dual Currency Plus: (i) the relevant Term Sheet; (ii) the Dual Currency Plus Terms and Conditions; and (iii) the Terms and Conditions Governing Personal Deposit Accounts (in particular, the section relating to "Foreign Currency Time Deposit").
*Renminbi (RMB) is considered a convertible foreign exchange and the conversion of RMB through selected banks in Singapore is subject to certain restrictions. Local RMB products are denominated and settled in RMB which is also known as offshore RMB and is different from that of the RMB deliverable in mainland China.
Dual Currency Plus is classified as an unlisted Specified Investment Product (SIP). SIPs are derivatives or products which may contain derivatives. They have complex features and risks and may not be widely understood by retail investors. Unlisted SIPs are those that are not listed on an exchange. Dual Currency Plus is inherently speculative in nature and carries risks. In particular, foreign currency market movements are unpredictable. If the proceeds at maturity are paid in the linked currency (as opposed to the base currency), there is a possibility that you will suffer a loss on your principal sum when compared with the amount of the base currency initially invested.
As your investment is denominated in a foreign currency, you are advised to consider the impact of any foreign exchange risk on the net returns of your investment. Foreign exchange controls may be imposed by the country/region issuing the foreign currency from time to time and may delay or prevent the payment of the proceeds to you.